What is a Waterlase Dentist?
A Waterlase Dentist cares so much about your comfort that they have invested in the ultimate in dental lasers, the Waterlase or Waterlase MD from BIOLASE - absolutely number one in dental lasers. The Waterlase laser's gentle combination of laser energy and water works without heat, vibration or pressure - the things that make a drill hurt. That means fewer shots, less anesthetic. So you can enjoy a comfortable, no-fear visit to the dentist.
Clinical Uses
LASER DENTISTRY Waterlase® was first cleared by the Food and Drug Administration (FDA) to cut tooth structure in 1998 and since that time has received numerous additional clearances from the FDA for a wide range of procedures on teeth, bone and gum tissue. LASER HARD TISSUE APPLICATIONS HARD TISSUE...



Want to learn more
about Waterlase?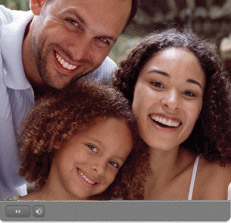 What Others Are Saying
"I would definitely recommend it. It was much easier than I thought it would be."
-S. Pruitt, California
"After having this procedure done with a Waterlase MD, I would never want to have another procedure done with your conventional drills, and knives, and sutures, and everything - there's no need for it."
-M. Roybal, California