Times have changed for the role of the dental assistant
As Assistant in General Operating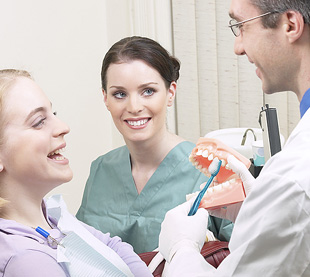 She should receive all patients in the reception room; assist them with their wraps; seat them in the dental chair and see that they are comfortably positioned. Place the napkin and head cap on patient; see that all charts, models and radiographs are at hand.
Place a sterile water glass in receptacle for patient; have hot water ready; see that sprays are warm, and if patient has ever expressed a preference for any particular mouth wash see that it is provided.
Have one place for each classification of instruments, and keep everything in its place. Keep cements of all kinds in their respective places with spatulas and varnishes.
When familiar with the prospective operation to be performed, before each sitting prepare the necessary implements by sterilizing before placing them in small sterile trays on the table tray. If the preparation is for surgical work, or root-canal work, special sterilizing will always be necessary during operation.
Preparing Room for Patient
At the end of the appointment when the operating room is to be prepared for the next patient, remove the linen headrest cover, and replace with a clean one. Wash the bracket table with a ten percent solution of alcohol before replacing the sterile enamel tray on the bracket table, and place a glass tray on the cabinet for soiled instruments used during the operation. Clean the cuspidor thoroughly after every patient. Brush the floor clean of any particles that may have collected. The nurse should scrub her hands with surgical soap and alcohol before the operation, and before handling linen.
Proper Asepsis
Have a sterile hand towel ready on the sterile rack for the doctor, so that he does not have to open the cabinet door. All this makes for proper asepsis, "and is a saving of time in the course of the day's work.
Perhaps the most valuable result of all education is the ability to make yourself do the thing you have to do when it ought to be done, whether you like it or not.