Veneers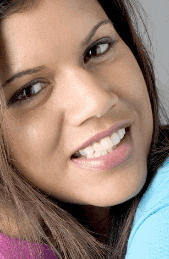 Everybody's talking about "smile makeovers" - they're the new craze in dentistry!
With so many new cosmetic techniques, you can finally get that amazing smile you've always wanted, quicker and easier than ever. Professional whitening, invisible braces, veneers... Just one question: what are veneers anyway? We're not talking about plywood here, but rather porcelain veneers that may also be referred to as dental veneers or porcelain laminates. Basically, they are thin pieces of porcelain that are bonded to your teeth to give your smile a whiter, straighter appearance. They are an excellent cosmetic solution if you have a discolored, chipped, stained, or crooked tooth.
Porcelain veneers are such an exciting new procedure, because they are typically much more life-like and stain-resistant than older dental bonding methods. Furthermore, they're practically "instant" orthodontics, fixing gaps and spaces in a matter of a few dental visits, rather than years of braces.
If you're ready to finally fix that stained (or crooked, or chipped) front tooth that has been bothering you for years, then contact a cosmetic dentist today and get the spectacular smile makeover you've always wanted!


This is an instructive summary of the qualifications and the duties of the present day Dental Assistant -- The Diplomat standing between the dentist and lost income. | read more |

Are you afraid of the dentist
December 20, 2009

Dental Code of Ethics
December 20, 2009

December 20, 2009

Simple Cavities upon Exposed Surfaces
December 20, 2009

Please contact us if you would like to have your dental video posted on Findadentist.com
December 20, 2009

Nearly all of the mammalia possess a more or less complicated dental system.
December 20, 2009