1st Anniversary Exhibition a Gift for FindaDentist.com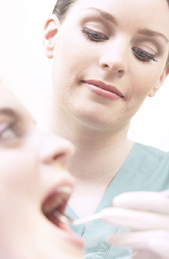 Medford MA - October 10, 2005
The American Dental Association 146th Annual Session in Philadelphia marked FindaDentist.com's one year anniversary for the beginning of their participation in Dental Exhibitions. As the record has held, the show was a triumph, both in membership sign-ups, and other business development. High attendance, and a few days of rain had the exhibition halls filled to the max.
"The traffic in the aisles was simply undeniable. You could look up your aisle and see nothing but people flocking to all kinds of booths", says Brian Benko, CEO and founder. "Companies of all kinds of products and services seemed to be happy with the amount of dentists and decision-makers they spoke to."
In addition to the amount of traffic, FindaDentist.com was impressed by the kind of dentist they were getting to their booth - more so than in any previous show they attended.
"I was most impressed by the cross section of the dentists that came to speak with us. We had a lot of dentists approach us who understood the Internet, understood the basics of search engines, and were already on the web in one form or another", says Benko. "These dentists were genuinely thankful that a company finally existed to provide nothing but online exposure for the millions of patients searching a month. I think it was not the traffic that made this show one of the best, but rather the quality of the people we spoke to".
This alone is one the most reassuring things for FindaDentist.com, who struggles to convince the 130,000+ dental professionals in the United States the importance of getting on the Internet early.
"Each show we go to seems to show a little more progress...a little more potential. As we continue to put our name out there, the dentists are becoming more educated in this field as well. The synergy is working to our advantage" says Benko.
FindaDentist.com is looking forward to attending the Greater New York Dental Meeting in November. The Internet company will be first time attendees of the massive show at New York City's Javitts Center.
Medford MA - October 10, 2005


This is an instructive summary of the qualifications and the duties of the present day Dental Assistant -- The Diplomat standing between the dentist and lost income. | read more |

Are you afraid of the dentist
December 20, 2009

Dental Code of Ethics
December 20, 2009

December 20, 2009

Simple Cavities upon Exposed Surfaces
December 20, 2009

Please contact us if you would like to have your dental video posted on Findadentist.com
December 20, 2009

Nearly all of the mammalia possess a more or less complicated dental system.
December 20, 2009