From The Outside, In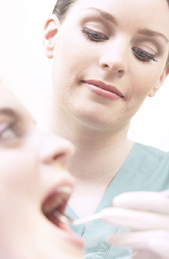 How a state-of-the-art remodeling gave one dentist a new sense of purpose
| By Rachel Clayton
One could easily mistake the lobby of Dr. Benjamin Fiss' office for a living room pulled straight from the pages of Town&Country magazine. With plush, burnt sienna soft-leather sofas, dark cherry wood appliances, dimmed lighting and professional photos of patients hanging on the walls, that's not a farfetched notion. Devoid of the typical dental office smell and harsh bright lights this is no standard, stark dental waiting room. And that's precisely what Dr. Benjamin Fiss intended.
"When patients walk in here, it absolutely doesn't feel like a dental office, it feels more like an art gallery. The waiting room is more of a welcoming center. The choice of materials, fabrics and textures, the flat screen TV in the waiting room-it's all meant to make patients feel just totally comfortable," Dr. Fiss says.
Dr. Fiss opened his first dental practice on Oak Street in1978, thriving in the Gold Coast location for 17 years, until his building was sold. In 1994, the practice relocated to 919 North Michigan Avenue in the historic Palmolive Building and tripled its space from 1,000 square feet to 3,500 square feet. Dr. Fiss saw the move, the first of two in the bulding, as a chance to take his practice to the next level and build what was then one of the most state-of-the-art dental offices in Chicago. Two years ago, due to the Palmolive remodeling, Dr. Fiss relocated again, moving from the sixth to the third floor. Always one to stay on the forefront of technology, he decided it was again an opportune time to give his practice a total technological upgrade. He donated all of his dental equipment to a needy community in Southern Illinois and replaced it with brandnew state-of-the-art equipment, in the process completely redesigning his workspace.
"Yes patients are getting quality dental care, but I wanted to create a place where they felt comfortable and confident too," Dr. Fiss explains. "It's not just my staff taking great care of them-it's the environment and how they feel."
In fact, according to Dr. Fiss, patients travel from as far away as London and South Africa to have him administer to their dental needs.
Putting his patients first means that every aspect of the office-from the artwork on the walls to the new, digital X-rays (that reduce radiation by 50 percent), and voice-activated computers in each of the six operatories-was meticulously planned. The warm reception area is meant to mirror a living room to put patients at ease right away. To this end, Dr. Fiss made sure that the office acoustics were effective enough to prevent dental drill sounds to permeate into this area. Once a patient enters an exam room, they're seated in front of a flat-screen TV and distracted by satellite programming, or they can opt to listen to music via Blue Tooth headphone sets.
What patients might not immediately notice are the Corinne countertops and granite floors-which Dr. Fiss chose specially to create a non-medicinal atmosphere-or the purified bottled water Dr. Fiss supplies in every office unit (Dr. Fiss explains that while most dental offices connect straight to the city water supply, his office purifies their own water on site, adding special chemicals to destroy the bio-film that normally builds up). A large HEPA fan also helps mask the sounds and smells emitted from the brand-new, dual-entrance Biotec sterilization area that sits in the center of Dr. Fiss' pristine office. All in all, it's an office that makes Dr. Fiss' tagline, "Where History Meets Technology," sound like a vast understatement.
"People love my office, they stay after their visit reading magazines, talking, and just enjoying the space," he says.
Moreover, the external changes have had a definite internal effect on Dr. Fiss. He says that after moving office spaces, he began to feel a new sense of purpose that went above just providing quality dental care. He felt imbued with a new personal mission and trademarked the explanatory slogan, "Changing Lives, One Smile At A Time."
Dr. Fiss says he is now filled with such passion and enthusiasm for his profession that, "I feel like I'm on fire! Truly, I've been doing this 29 years and I feel as if I just started!"
For more information click here


This is an instructive summary of the qualifications and the duties of the present day Dental Assistant -- The Diplomat standing between the dentist and lost income. | read more |

Are you afraid of the dentist
December 20, 2009

Dental Code of Ethics
December 20, 2009

December 20, 2009

Simple Cavities upon Exposed Surfaces
December 20, 2009

Please contact us if you would like to have your dental video posted on Findadentist.com
December 20, 2009

Nearly all of the mammalia possess a more or less complicated dental system.
December 20, 2009