Website Brings Patients and Doctors Together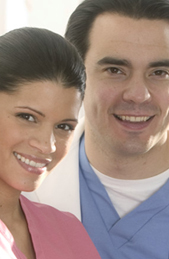 Medford MA - August 2, 2005
FindaDentist.com has been busy this summer, with a new marketing and sales team reaching out to more dentists and helping more internet users than ever. This new sales force, beginning in May, has begun city-by-city marketing blitzes nationwide, resulting in benefits for both doctors and patients.
Officially launched over a year ago, FindaDentist.com is a comprehensive, user-friendly dental directory designed to facilitate the process of searching for a new dentist. Consistently ranked in the top three free listings on Google and Yahoo, the directory draws 200,000 users a month to the site -- proving itself an asset to dentists looking to acquire a larger patient base as well as a resource for the growing number of internet-savvy patients. Listing thousands of dentists from New York to L.A., users have choices among dentists in just about any zip code.
Now, with the new marketing blitz in effect, many doctors have opted to purchase Featured Listings on the directory. Not only does this listing put the dentist at the top of the page for their city, it also allows them a 7-page microsite full of information about their practice. In this way, FindaDentist serves as a rendezvous point for the doctors' and patients' needs: Dentists want to gain exposure on the internet in order to attract more patients. Patients want to find out more information in order to be comfortable approaching a new dental practice. "With such a high rate of dental phobia in the US, patients want to have their questions answered anonymously. There's no better way to do this than on the internet," says Jessica Dippold, Director of Marketing.
And the Featured Listings are growing in popularity. As the sales team makes calls in each city, generally two of the three available featured listings are being sold - and quickly. In many cities, including Chicago, Los Angeles, San Diego, and Miami, all of the highest spots have been filled, and in many other cities, there is only one spot left.
Furthermore, as a part of the summer promotion, FindADentist is offering a free Standard listing with the purchase of a Featured.
Medford MA - August 2, 2005


This is an instructive summary of the qualifications and the duties of the present day Dental Assistant -- The Diplomat standing between the dentist and lost income. | read more |

Are you afraid of the dentist
December 20, 2009

Dental Code of Ethics
December 20, 2009

December 20, 2009

Simple Cavities upon Exposed Surfaces
December 20, 2009

Please contact us if you would like to have your dental video posted on Findadentist.com
December 20, 2009

Nearly all of the mammalia possess a more or less complicated dental system.
December 20, 2009